Immunizations and Travel Vaccines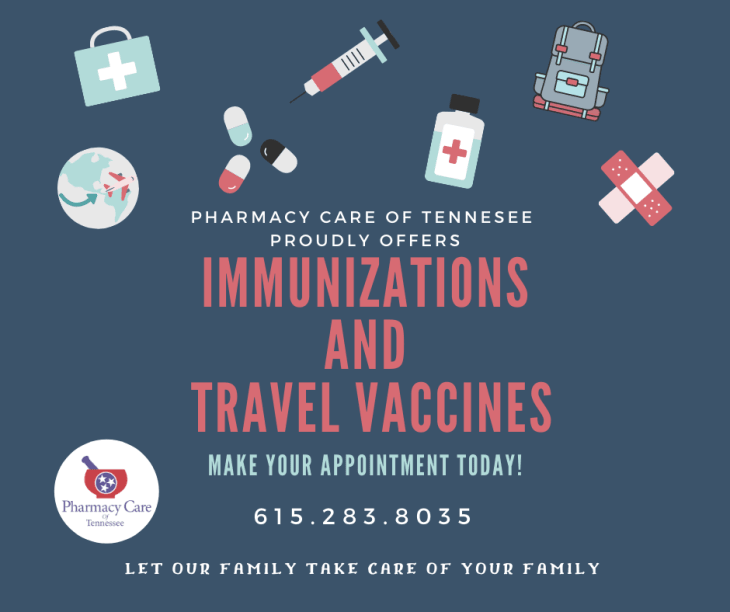 Pharmacy Care of Tennessee offers Immunization Services. As health professionals, we feel that routine immunizations are important and play a key role in keeping our community healthy throughout all stages of life. Our pharmacists are well-versed on adult immunization guidelines and can help you determine your best care.
Flu
Shingles (Shingrix)
Pneumonia (Pneumovax or Prevnar)
Hepatitis A
Hepatitis
Meningitis
MMR (Mumps/Measles/Rubella)
DPT (Diptheria/Tetanus/Pertussis)
Traveling to a particular region that the Centers for Disease Control (CDC) recommends a certain vaccine(s)? We are happy to help! In addition to the more common vaccinations listed above, we also administer the following:
Typhoid (Vivotif pills or Typhim shot)
Cholera
Malaria
We recommend that all travel-related vaccines be completed two (2) weeks PRIOR to travel. Please call 615-283-8035 to make an appointment for any travel vaccines to ensure timely administration.
While we take pride in taking care of your whole family, childhood immunizations (ages 0–13) are not typically within our scope of service. Please speak with your child's pediatrician regarding routine childhood immunizations.